This is going to be a really short post/page, because the best gold price charts you can find online are essentially over at Kitco. There's really not too much competition in the gold chart world — most of the competitors actually use Kitco as their source for their charts. Here's a direct link to Kitco's charts.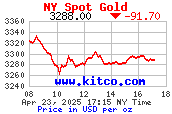 Join Over 8,000 Investors:
In less than 15 minutes a week, you'll learn everything you need to know about gold prices, the collapsing dollar, and the real inflation rate.
Thousands of investors have already signed up for the newsletter and are getting the info for free: